Knowledge Drop June 26, 2018 – Hines Ward Edition* (#40)
Thanks for reading BMFS. Tom McFeeley and his team drop Fantasy Knowledge at least 3x a week, online and straight to your inbox. Please send us your commentsband say hello at   bigmacfantasysports@gmail.com. 
Sign up here to get your Knowledge Delivered at least 3x a Week
*Ward was MVP of Super Bowl XL. Hines hauled in 11 passes for 123 yards and a touchdown. His quarterback, Ben Roethisberger threw for just….wait for it… 123 yards, 2 INT and ZERO TDs.  That's right — Ward's TD was thrown by Antwaan Randle-El, a 43-yard strike for a score. The Steelers beat the Seahawks 21-10.
---
TOP KNOWLEDGE — WHAT YOU NEED TO KNOW RIGHT NOW
THE REAL FIRST ROUND!
In the weeks and months leading up to Draft Day, we put so much focus on Round 1 – what pick do we have, who will be there for me. You've played this game a long time, so you know that your top pick disappoints more often than he meets lofty expectations of him.
Here's my favorite game of the pre-season (God knows it's more entertaining than Game 4 of the pre-season slate): Looking at last year's ADPs and where they ended up in value at the end of the season.  Because I always say "Draft like it's Week 17."  Who will be the best players at the END of the season, not the most hyped in the summer?
Here are the 2017 top 12 in ADP last summer. Please note that I removed QBs from the rankings. Last season QBs posted 11 of the top 12 point totals. Two defenses and a kicker were removed as well.
| | | | |
| --- | --- | --- | --- |
| No. | Player | Pos. | End Rank |
| 1 | David Johnson | RB | 442 |
| 2 | LeVeon Bell | RB | 2 |
| 3 | Antonio Brown | WR | 8 |
| 4 | Julio Jones | WR | 26 |
| 5 | LeSean McCoy | RB | 9 |
| 6 | Devonta Freeman | RB | 24 |
| 7 | Odell Beckham Jr | WR | 243 |
| 8 | Melvin Gordon | RB | 5 |
| 9 | Mike Evans | WR | 70 |
| 10 | A.J. Green | WR | 40 |
| 11 | Jay Ajayi | RB | 99 |
| 12 | Ezekiel Elliott | RB | 12 |
Note that only 5 of the top 12 players finished in the top 12. None of them produced higher than their ADP; Bell and Elliott matched their ADPs. Of course, injuries derailed Johnson and Beckham's seasons, but we don't care WHY they didn't finish in the top 12, we are just studying probabilities.
Having conducted this experiment for several seasons I can tell you that players in the top half of the first round are much more likely to stay in the first round. That inherently makes sense, but the talent level between the 2nd and 9th pick is virtually identical. But the first round is about sure things and consistent players get drafted in the top half of the round.
Now for reference, these were the non QB (and non-defense) top 12 performers and points scored in 2017.
| | |
| --- | --- |
| Todd Gurley | 319.3 |
| Le'Veon Bell | 256.6 |
| Kareem Hunt | 242.2 |
| Alvin Kamara | 233.4 |
| Melvin Gordon | 230.1 |
| Mark Ingram | 220 |
| DeAndre Hopkins | 213.8 |
| Antonio Brown | 209.3 |
| LeSean McCoy | 204.6 |
| Leonard Fournette | 194.2 |
| Keenan Allen | 182.2 |
| Ezekiel Elliott | 177.2 |
Note, there were 3 WR and 9 RBs, helping to fuel the resurgent "draft a RB in round one" movement. Hopkins and Brown are always good bets to return to the list, but does anyone believe Kennan Allen will be a top 12 performer?
Now, here are the top 12 players drafted this year in early drafts:
Todd Gurley
Le'Veon Bell
Ezekiel Elliott
David Johnson
Antonio Brown
Alvin Kamara
DeAndre Hopkins
Saquon Barkley
Kareem Hunt
Melvin Gordon
Odell Beckham Jr.
Leonard Fournette
Again, 9 RBs and 3 WRs.  Here is the fun part. Using the same number that returned first round value last year, I get to keep five players who will finish in 2018's first round. I'll take Bell, Elliott, Brown, Kamara and Fournette.
Gurley is number 1 based on his TDs from last season.  He's a top 12 talent for sure, but I say he falls in the middle of 2nd round value. Hopkins will be just outside the top 12 also. Barley is a rookie and can't be assumed to be first round. Beckham will get hurt, Gordon will stop scoring TDs.
Now I get to pick seven players who will play themselves into top 12 production.
I'll take: Jerick McKinnon, Jay Ajayi, Tyreek Hill, Dalvin Cook, Joe Mixon, Kenyan Drake and Stefon Diggs.  This will result in 3 WR in the top 12, consistent with the trends.  
Ajayi will get many more carries in Philly, Cook just missed the top 12, Mixon is the post-hype sleeper.  Drake very quietly had a solid season and will break out in 2018.  We'll break these players down throughout the summer.
But do draft like it's Week 17. That doesn't mean you should pick Mixon in the first round, but think about players who have the talent, the path to great success and maybe just hit a bump in the road or didn't score lots of TDs last season.
So here is The Big Mac REAL First Round – the players who will produce top 12 value:
Le'Veon Bell
Ezekiel Elliott
Antonio Brown
Alvin Kamara
Leonard Fournette
Jerick McKinnon
Jay Ajayi
Tyreek Hill
Dalvin Cook
Joe Mixon
Kenyan Drake
Stefon Diggs
I know, many of you are tired of waiting for Jay Ajayi to "arrive" but consider the following graphic, from our friends at Pro Football Focus:
I'll see  ya in Week 17 when we celebrate your championship.
---
A THOUSAND WORDS
Today @BatFlipCrazy thinks it *might* be time to invest in Manuel Margo again:
Definitely some positive signs – stable & good o-swing, contact rate rising, hard hit rate rising. I'm still not sure a high FB% is good for Margot's profile, since I'm not sure he has enough power to be effective consistently hitting it high in the air. Mostly like what I see.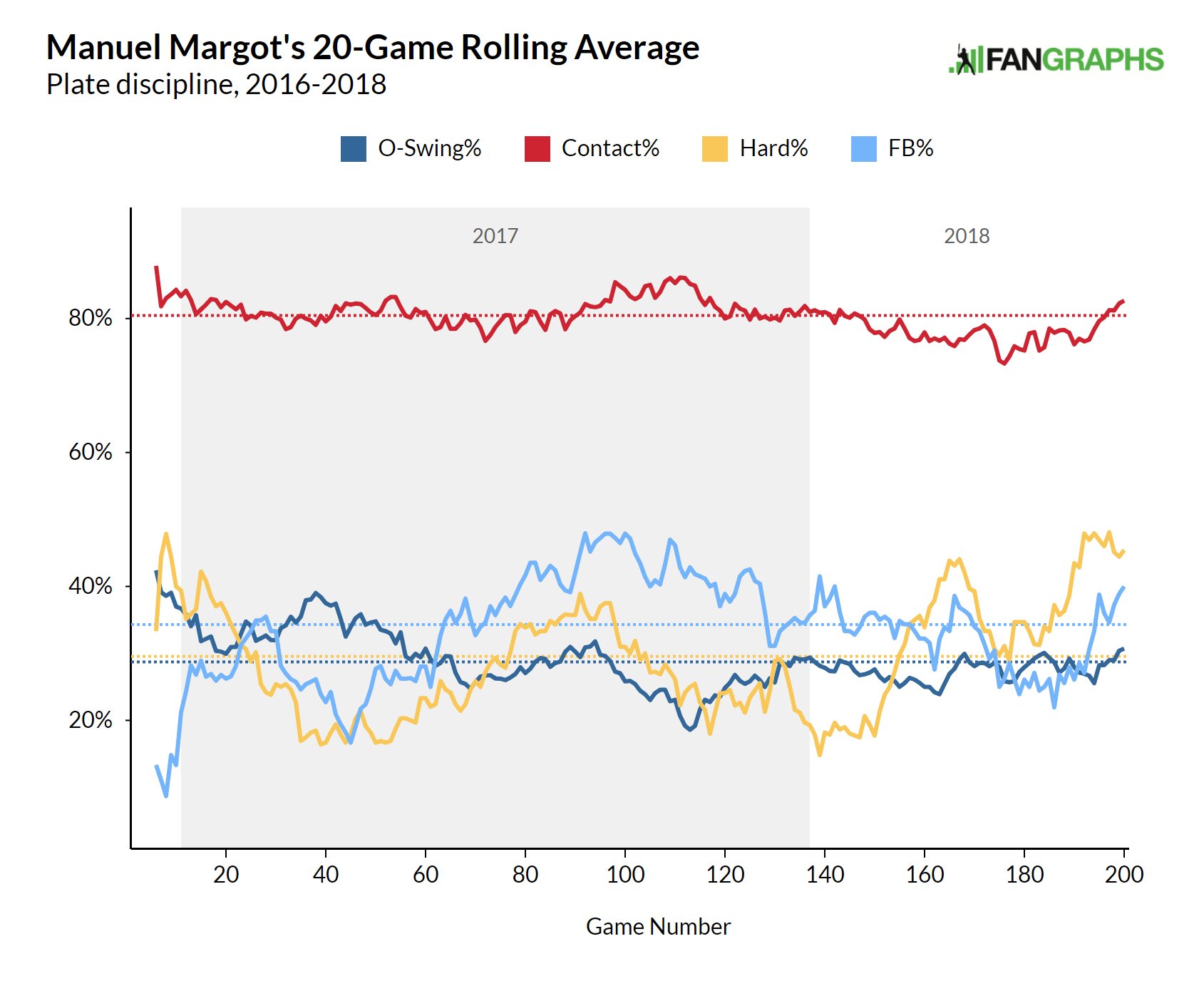 ---
RIDDLE ME THIS
There was a lady who lived in a one-story house who LOVED the color pink.  The sofa was pink, the carpet was pink and even the TV was pink.  So what color were her stairs?
Email your guess to BigMacFantasySports@gmail.com
Sunday's Riddle: Julie's dad had five daughters:  June, July, August and September. What was the name of the fifth one?
Nobody correctly guessed the fifth daughter, quite obviously, was Julie.
---
DAD JOKE OF THE DAY
One police department allows prisoners to take their own mug shots.  What do they call them?
Cellfies
---
Like what you see? Sign up to have the Knowledge Drop sent DIRECTLY to your inbox at least 3x a Week!